Business loans in Singapore are offered by almost 20+ banks, financial institutions and alternative lenders. 
It can be confusing and a waste of time for you to check which is the best business loan….
Different banks have different criteria, interest rates and types of business loans offered. You don't have to call up every bank to check their rates and criteria:
Use this simple free loan assessment tool to compare all SME business loans.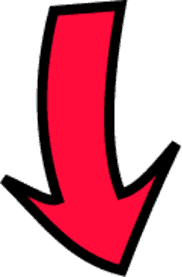 Types of small business loans

:
Business Term Loans
Most common form of working capital loan. Lump sum principal loan amount usually between $50K to $300K per bank. Repayable via equal monthly installments typically between 3 to 5 years.

SME Micro Loan

The SME Micro Loan is a government assisted financing scheme for local SMEs. Maximum funding up to $100K for companies with annual revenue less than $1M or less than 10 employees.

SME Working Capital Loan

The SME Working Capital Loan is a government assisted financing scheme from Spring Singapore launched in June 2016, available till May 2019. Up to $300K financing for Singapore SMEs. 
Trade Financing
Revolving credit line to finance purchases of inventories or materials from suppliers. Letters of Credit (LC) can be issued to overseas suppliers. Trust Receipts (TR) credit terms between 90-120 days.
Factoring / Receivables Financing
Financier advance 80% to 90% of your customers' outstanding invoices value. Suitable for SMEs whom serve reputable companies with long credit terms.
Property Financing

Mortgage loan to finance purchases of commercial or industrial properties. SMEs can also pledge exiting property to banks for financing facilities. Cheapest form of financing due to collateral nature.
Equipment Financing 
To finance purchase of fixed assets such as machinery and equipment. Typically structured as hire purchase or leasing.



Business Loan Interest Rate
Different banks and loan products bears different interest rate. A typical business term loan interest rate range between simple interest 3.5% to 6% p.a. (effective interest rate about 6.5% to 11%).
Use our business loan interest rate calculator to check indicative monthly installment amount and interest costs.

Typical commercial loan criteria and requirement:
Minimum annual revenue of $300K

Minimum average daily balance of $10K maintained in bank account

Operational history of 1 year, preferably 2 years.

There is a wide variety of financing products and interest rates among the various banks and financial institutions. Credit criteria is also different between all banks. 
You can use a loan assessment tool to check your company's eligibility and compare all banks business loan offerings.


Most Singapore SMEs have at least a banking account with the 3 local banks due to their wide retail banking network and brand name familiarity.
The 3 local banks are undoubtedly the dominant players in Singapore's SME financing space. With strong branding and sturdy balance sheets, our 3 homegrown banks continue to dominate Asia's safest banks rankings year after year.
DBS, OCBC & UOB are ranked the top 3 safest banks in Asia respectively for 2017. [1]
Image credit: http://www.straitstimes.com
When it comes to applying for a business loan, most SMEs will naturally gravitate towards these 3 banks as well.
How attractive are the 3 local banks SME loan offerings compared against each other?
We've done some research via mystery shopping calls to their respective SME loan departments and quick checks on their websites product page. Here are the results we got:
DBS Business Loan    
DBS offers an unsecured term loan for SMEs:
Maximum loan amount is $500K.

Maximum loan repayment period is 5 years.

Interest rate starts from 10.88% p.a.

Processing fee 2% of loan amount

Repayment method via equal monthly installments calculated on monthly reducing principal

No early repayment penalty
OCBC Business Loan   
OCBC unsecured business term loan product features:
Maximum loan amount is $500K.

Maximum loan repayment period is 5 years.

Interest rate starts from 10.88% p.a.

Processing fee 2% of loan amount

Repayment method via equal monthly installments calculated on monthly reducing principal

Early repayment penalty 3%
UOB Business loan   
UOB's unsecured term loan is named 'BizMoney Loan':
Maximum loan amount is $350K.

Maximum loan repayment period is 4 years.

Interest rate starts from 10.88% p.a.

Processing fee 2% of loan amount

Repayment method via equal monthly installments calculated on monthly reducing principal

Early repayment penalty 6.88%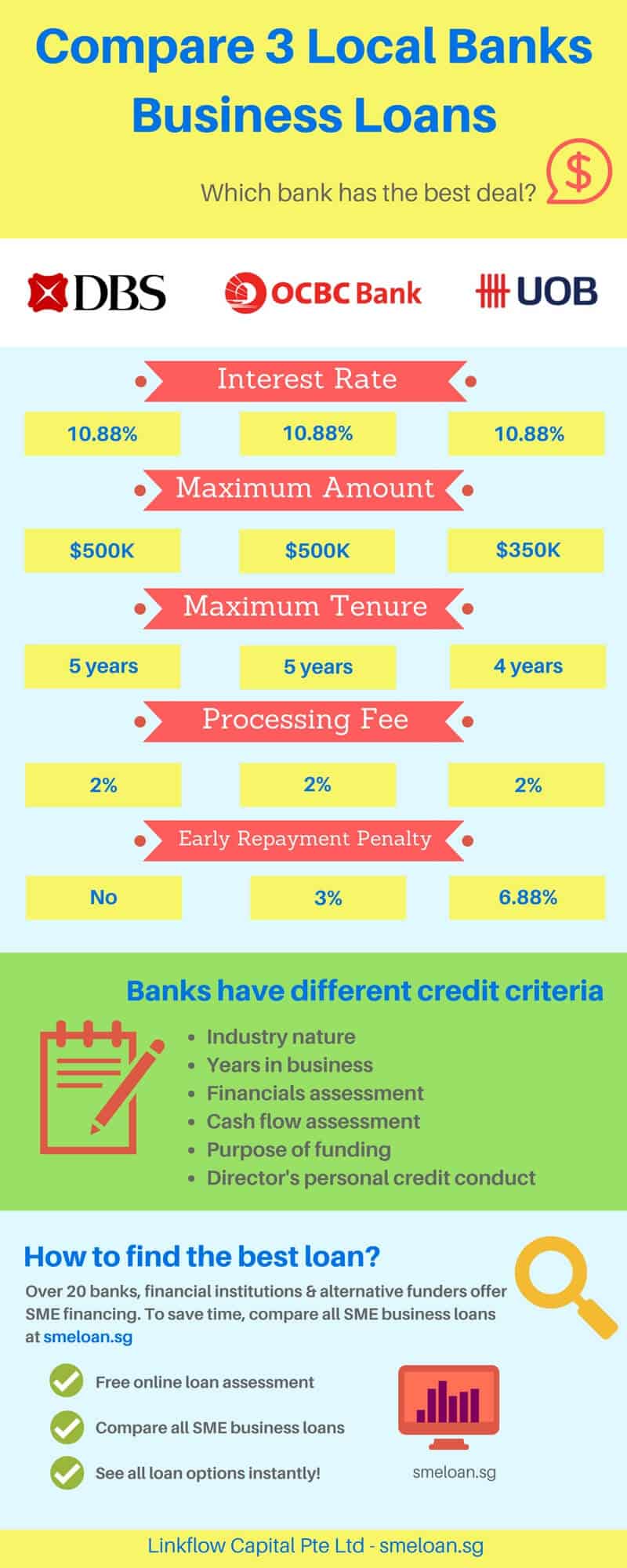 Which local bank's business financing should you choose?
All 3 banks SME loan product features are very similar. They are also priced almost identically with all 3 banks' business loan interest rate starting from 10.88% p.a. EIR.
UOB business loan features are less attractive with the maximum quantum of $350K compared to both DBS and OCBC at $500K. UOB's early loan redemption penalty is also the highest at 6.88%.

P.S. Although all 3 banks publish their maximum loan quantum, do note in our experience, it's not easy to qualify for their maximum limit. Most borrowers, we think, will not be offered the maximum amount unless financials and all credit aspects are exceedingly strong.

If you intend to redeem your loan earlier than the approved loan tenure, you should go for DBS as it allows early redemption at any time with no penalty.
The above figures are for reference only. Although business financing product features are similar, do note that all 3 banks have different internal credit criteria.
For example:
OCBC SME loan will require the applicant company to be registered for minimum 2 years while UOB will require minimum 3 years of incorporation.
For newly registered companies less than 2 years' incorporation looking for a startup business loan, the 3 business loan products reviewed here might not be eligible.
For new startups registered between 6 months and 2 years, OCBC does offer a smaller financing product called the Business First Loan. 
There are other multiple credit criteria that differ between the 3 banks, including age limit of director, industry nature of business, minimum annual revenue requirements etc…
Aside from our 3 local banks, there are about 20+ different banks, financial institutions and alternative financiers that offer working capital loan financing for SMEs.
To help you navigate the different criteria and credit requirements of all financiers, you can easily compare all banks' SME loans with a free online business loan assessment and see all your funding options instantly!

Disclaimer: Linkflow Capital Pte Ltd does not purport to represent any of the 3 local banks in any manner. We are not able to guarantee the accuracy of the information presented here perpetually as the banks might adjust their product features over time. All information on the 3 local banks business loan products presented in this article were obtained in September 2017 via their respective websites. The information presented here is not meant to be relied on solely. If in doubt, please verify information again with the respective banks business loan department or seek professional help.
Sources:
[1]  http://www.straitstimes.com/business/banking/dbs-ocbc-uob-named-top-3-safest-banks-in-asia