Payment Options for SMEs in Singapore
Technology, primarily fintech, has improved and altered the way consumers and business make and receive payments.
Online payment options fueled the growth of e-commerce into the mainstream just a couple of years ago and today, provide SMEs in all industries with multiple options to receive and make payments virtually.
Traditional medium of payments, cash and cheques, are gradually growing obsolete in Singapore. The ease of internet banking and the introduction of Paynow has enabled the convenience of making digital transfers of monies. Businesses, especially brick and mortar shops, no longer have to struggle with the inconveniences of cash handling.
Paynow transactions doubled to $22 billion in 2020 and on track to set higher record in 2021 amidst the Covid-19 pandemic.
The growing trend of digital and virtual payment methods is in-line with the Government's aim to cut the use of cash and become cheque free by 2025.
SMEs need not worry about losing the familiarity of cheque and cash payments as there are multiple digital payment options today to choose from.
Faced with competition from fintech companies and neo-banks challengers, banks and finance companies have also intensified their efforts to simplify and innovate payment options for businesses and consumers.
We will discuss and share some of the popular payment service providers in Singapore that SMEs can tap into.
Paypal
Paypal is the biggest online payment system not only in Singapore but across the world.
According to PayPal's infographic, over 70% of Singaporeans use their services.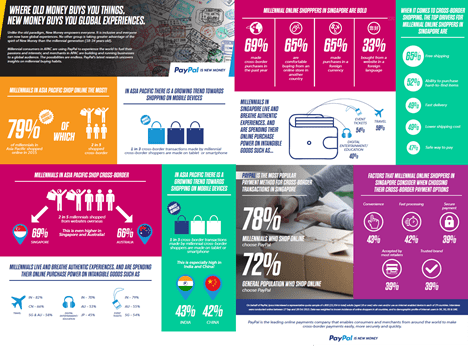 Positioned as "New Money", Paypal is ideal for SMEs because of its three features: Buyer Protection, Seller Protection, and Refunded Returns.
If you have a Singapore-based PayPal account, you'll have to pay a 3.9% fee on the aggregate sale amount and a fixed fee of S$0.50 for every transfer.
If your company sale exceeds $5,000 monthly, the transaction fee drops to up to 2.7% depending on the amount of cash you draw in.
Stripe
Stripe is a popular technology company that processes online payment for internet businesses.
Unlike PayPal, Stripe allows you to customize practically every process of the online payment experience. It supports over 135 currencies and accepts all major payment options, including international credit cards and Pay Later.
Like PayPal, Stripe doesn't have a setup or a recurring monthly charge. The company charges a fixed 3.4% fee on every credit and debit card transaction, as well as a $0.50 fee for every transfer.
Grabpay
Grabpay currently has over 4 million daily users in Singapore, making it one of the more trusted payment services in the country. It's officially regulated by the Monetary Authority of Singapore, which further reduces the risks associated with online payment services for SMEs.
GrabPay has a fee of 1% on all local transactions, as well as a 7% GST (Goods and Services Tax) fee. The foreign currency transaction fee is 2%.
The company doesn't have annual fees or application fees. Overseas ATM withdrawal fees cost only S$5.
HitPay
HitPay is a no-code payment gateway solution specifically designed for Singapore SMEs. The company features a full range of payment methods, including Visa, Amex, PayNow, Paylater by Grab, and many others.
Payments via domestic cards come with a transaction fee of 2.8% with S$0.50 for every additional transfer. International cards have a 3.65% fee + S$0.50.
Other costs are as follows:
Alipay: 2.7% + S$0.35
GrabPay: 3%
GIRO: 0.8% + S$2
PayLater by Grab: 5.5%
PayLah!
PayLah! is a popular wallet service developed by DBS Bank. It supports transactions such as Scan and Pay (NETS), bill payments, funds transfers, QR Code payments, and in-app purchases.
PayLah! charges a transaction fee of 3% for credit and debit card users, and a 2% to 4% fee for installment plans.
CardUp
CardUp is another no-code credit card enablement platform that provides businesses with the options to pay business expenses via personal or corporate credit cards.
Payments that traditionally can't be paid via credit cards such as rental, wages and supplier payments can be paid via credit cards through Cardup's platform.
This would be useful for SMEs who can potentially unlock up to a month or more interest free credit terms via untapped limits in their personal or corporate credit cards. This could serve as a short term working capital instrument to supplement traditional SME loan financing facilities.
It charges a 2.6% fee for each transaction, but there are promo codes available for different use case, and fees could be as low as 1.3%.
Cardup also offers business users option to collect business payments from their customers via credit cards payment.
Atome
Atome provides users with short-term payment plans with no interest or service fees. The company charges an MDR (Merchant Discount Rate) fee per transaction, but it does not state publicly rates details.
Atome is one of the pioneers of the Buy Now Pay Later (BNPL) service in Singapore and their product is very suitable for retail or e-commerce SMEs looking to offer interest free installment purchase plans for their customers.
By offering BNPL options to consumers, retailers could potentially increase checkout conversion rates and item ticket sizes.
SingX
SingX is a payment services company that is regulated by MAS as a remittance business. Their key strength lies in global payments for businesses, offering competitive exchange rates and low fixed fees.
SingX charges a fee of between 0.2% to 1% for overseas remittances and offer features such as free business transaction account as well as bulk payments to multiple receivers.
For SMEs who are trading internationally, SingX is an attractive option to help simplify and save on costs for overseas remittance payments.
Conclusion
There are a decent number of payment modernization options for SMEs in Singapore. If you're an international merchant, it's worth looking into the services offered by PayPal, Stripe and SingX. For local businesses, you can't go wrong with HitPay, Paylah and GrabPay.
Digital payment options and providers are part of the fintech evolution wave and growth we're experiencing in recent years. Rapid advancements in financial technology will also be key enablers in more aspects of finance aside from payments, from automated intelligence powering best business loan comparisons to blockchain technology powering supply chain solutions.
Information provided in this article are accurate to the best of our knowledge at the time of writing. Rates and fees from payment services providers might vary from time to time and it is advised to check with providers directly for most updated details.